Photonics News: Week in Brief: 10/29/21
SOUTHBOROUGH, Mass. — Block MEMS was awarded a $2.6 million contract in support of the U.S. Department of Homeland Security's Science and Technology Directorate to detect vehicle-borne improvised explosive devices (VBIEDs). The program will build on the company's quantum cascade laser technology, which was funded by the Intelligent Advanced Research Projects Activity. The technology is able to detect trace explosives at a standoff distance of up to 5 m.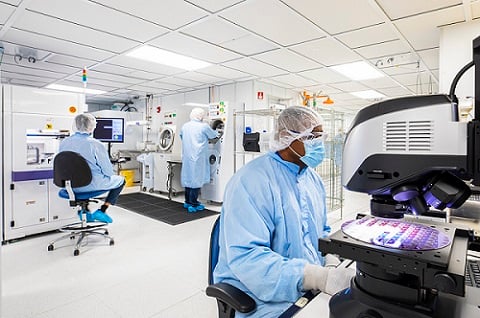 ---
The μ-Line facility in Apopka, Fla., will support production of future advanced packaging assemblies integrated in radio frequency, digital, and electro-optic/infrared systems. Courtesy of Northrop Grumman.
---
APOPKA, Fla. — Northrop Grumman established a microelectronics packaging facility. The "Micro-Line" (μ-Line) facility is a wafer post-processing and test source tailored for defense applications. Products processed at the μ-Line facility will serve as building blocks to advanced radio frequency and electro-optic infrared defense systems.
WASHINGTON, D.C. — U.S. Rep. Joe Morelle led the Congressional Optics and Photonics Caucus in a briefing on workforce challenges facing high-tech industries. The briefing included testimony from four panelists: Alexis Vogt, professor of optics at Monroe Community College; Jay Kumler, president of Jenoptik North America; Trent Berg, president of Montana Photonics Industry Alliance; and Katie Schwertz, senior design engineer at Edmund Optics.
---
On left, Pu Zou, general manager, and Haidong Yang, sales manager at Shanghai Menlo Systems Quantum Laser Technology. Courtesy of Menlo Systems.
---
SHANGHAI — Menlo Systems opened its Shanghai Menlo Systems Quantum Laser Technology subsidiary in China. The business builds on a long-standing strategic partnership with Thorlabs China, the company said. Pu Zou, in charge of business development in China, will serve as general manager for the subsidiary.
CAMBRIDGE, England — Sphere Fluidics, a provider of single-cell analysis systems based on its proprietary picodroplet technology, closed a $40 million investment round. The funding will support the company's international sales expansion. Further, it will expand its product research and development programs, including novel applications for its Cyto-Mine Single Cell Analysis System.